Seller Financing, Low Payments
Bayard, NM 88023
Grant County, New Mexico
Expired Listing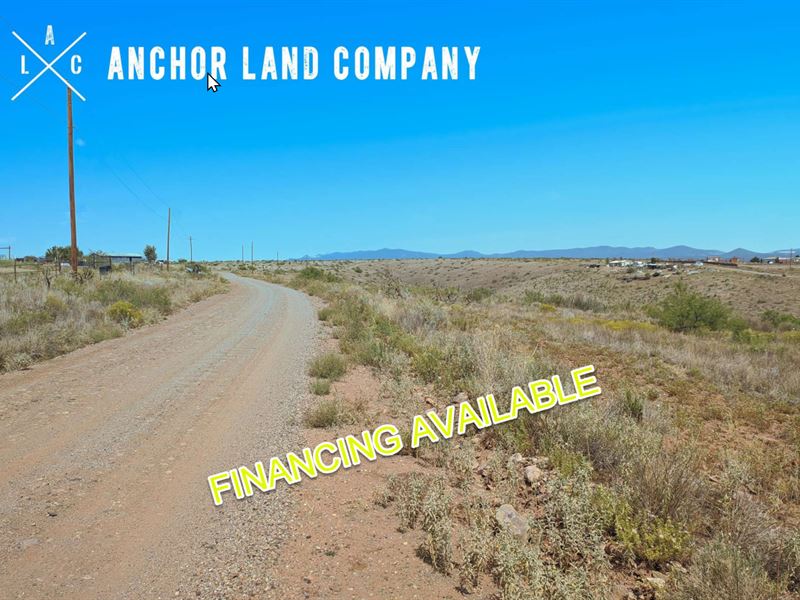 Farm Description
See all the property details and Seller Financing information on our website.

Seller Financing Available.

Discounted Cash Price - Or

- Financing Option 1 - down, then mo for 48 mos

- Financing Option 2 - down, then mo for 48 mos

Wide open spaces for an incredible price.

This big 6.11-Acre property is a great opportunity to invest in beautiful Southwest New Mexico. The property boasts great views, road access, power nearby. Just a few neighbors in the area.

This property is only 30 minutes to Silver City, NM which has a Wal-Mart Supercenter and any of the amenities you may need.

About 2.5 Hours to El Paso, Tx

About 3.5 Hrs to Tucson, Az

About 4 Hours to Albuquerque, NM Seasonal stream may run just outside the eastern property line.

Discounted Cash Purchase: Earnest Deposit secures this property. Once you complete the Checkout Process, we will receive an instant notification that your earnest deposit has been made. The deposit is credited towards your purchase. The remaining balance may be paid by Wire Transfer, Cashier's Check, or ACH Bank Draft within 5 days (30 days if you choose to close through a title company).

Seller Financing: Options include an additional monthly note fee and a one time note setup fee charged by the escrow company. Once you make the down payment, you will receive documents that will require a notarized signature and the escrow company will contact you to set up monthly payments. If you choose to close through a title company, you will be responsible for any closing costs.

Property Details

Nearest City: Bayard

State: Nm

County: Grant

Zip: 88023

Size: 6.11 Acres

Apn: 491

Legal Description: Cameron Creek Estates Lot: 5 6.111 Ac

Estimated Coordinates: 32.7357, -108.1605, 32.7375, -108.1611, 32.7378, -108.1598, 32.7357, -108.1592

Taxes: No back taxes, approximately per year total

HOA: To our knowledge, the HOA was disbanded

ACCESS: Mesa Trail

ZONING: Residential Vacant

SEWER: Would be septic or alternative. Recommend 'Septic Solutions' out of Silver City

WATER: Would be by well or alternative. Recommend 'Badger Western Exploration' out of Silver City

UTILITIES: Powerlines run adjacent to property on Mesa Trail. Call PNM for any specific questions/quotes for hookup

Buyer is responsible for conducting due diligence and accepts the Property "as is" and in present condition with all faults. All the information we have on this property is above, if you have any questions regarding a particular state or county restrictions please address it to the appropriate Grant County office.

Estimated coordinates and driving directions are provided to the best of our knowledge. Properties are not staked or marked unless specified in the listing. Buyer to conduct a survey if desired.