896 Ac Highly Productive Grain Farm
Hwy 33 & E Kirkland Road : Des Arc, AR 72040
Prairie County, Arkansas
Expired Listing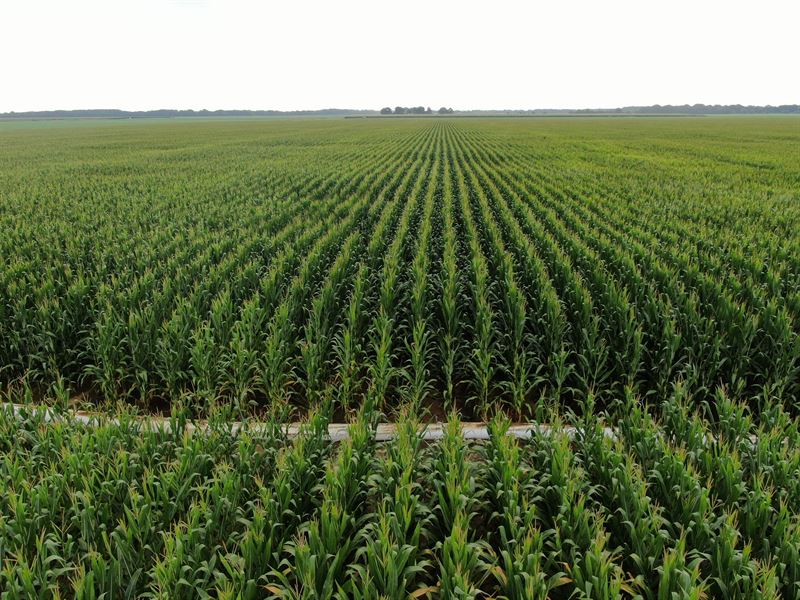 Farm Description
Very Fertile, Irrigated Farm watered with 11 Irrigation Wells (6 electric & 5 diesel). The seller owns the diesel power units and they are included in this offering.

This farm has great access from Arkansas State Highway 33, east of Des Arc, Arkansas. All of this farm is in one contiguous block.

In 2019, the yields were: Rice (193.50 bushels per acre) Corn (172.30 bushels per acre) and Soybeans (60.50 bushels per acre).

In 2018, the yields were: Rice (199.50 bushels per acre) Corn (187.70 bushels per acre) and Soybeans (57.30 bushels per acre).

There are 831.02 acres in cultivation (per FSA 156Ez and appraisal). A breakdown of the acreage, (gathered from an appraisal) is as follows:

141.19 acres Precision Leveled Ground, 2/10 slope, completed in 2017

614.83 acres Contour, furrowed or center pivot irrigated land

75.00 acres Fallow Land

40.00 acres Timber/Hunting Land

26.70 acres Roads/ditches, etc

This farm has 77.3 Nccpi Soil Productivity Rating. The soil rating for this land is above average compared to other farms in Prairie County, Arkansas.

The majority of soils on this farm are Commerce Silt Loam, (0 to 1 percent slopes). A complete summary of the soil types and percentages are displayed in the attached "Soils Map."

Several maps and photos are attached providing details about this farm.

If you would like to schedule a tour of this farm, call David Hafer, (Eight Seven Zero Eight One Six Six Seven One Four) or Myron Hall at, (Five Zero One Nine Two Two Eight Eight Seven Four) Myron Hall Land Company.

You can also call , Jr., (five zero one two zero seven three three two three) at Company, Inc.

David, Myron or I will be happy to show this farm to you and/or answer any questions.