831 Contiguous Acres
Pawnee Lane : Bassett, VA 24055
Franklin County, Virginia
Expired Listing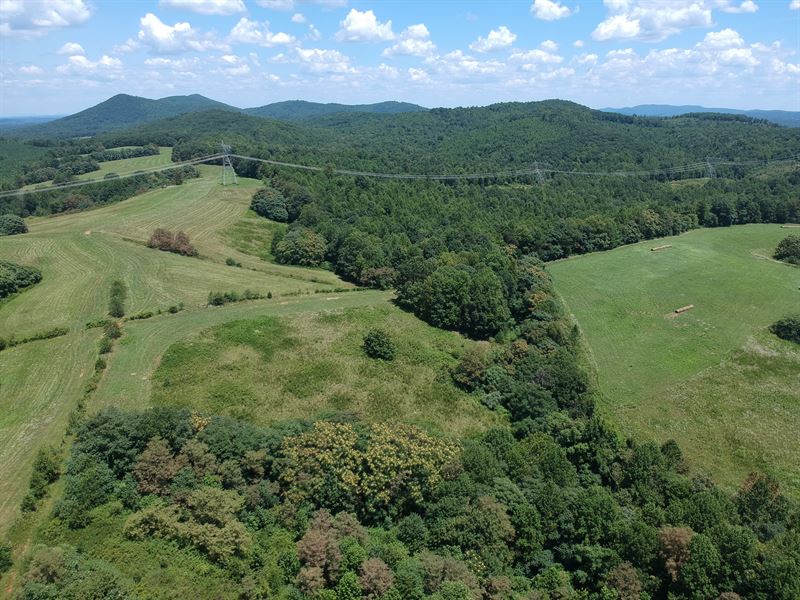 Farm Description
Rare find of pristine large farm or ranch in Virginia. This 831 acres is ideal for cattle, horses, hunting, outdoor recreation, vineyard & winery. With privacy and solitude, the farm offers incredible mountain views deep into North Carolina from high grassy knolls. Large cattle barn and livestock facilities on site with productive hay land. Network of trails and logging roads through forestland for great access. A conservation easement permits multiple rural uses, including the right to build up to 6 homes. Extensive stream frontage with steam banks managed as part of stream mitigation bank.

The property consists of Henry County tax parcel s 6.5000-29,33 & 35, and Franklin County tax parcel s,,,,,, & totaling 831.947+/- Acres.

Owner financing available with 30% down.

Also listed with stream mitigation credits included for (Mls 855504)

Bank currently includes 11,110 credits available to market with potential to generate approximately 8,500 additional credits. The Roanoke River Wetlands and Stream Mitigation Bank is offered along with underlying land and adjacent acreage.

Generate substantial income from the sales of mitigation credits while enjoying a pristine restored environment teeming with wildlife and full of scenic vistas.

Within the 831 acres are 421 acres preserved and managed as the mitigation bank with nearly 38,000 feet of streams. The bank acreage includes restored streams with wooded buffers that permit hunting and passive recreation and provide exceptional wildlife habitat.

Contact agent with any questions and for copies of the conservation easement and mitigation bank documents.