820 Game Ranch & 1533 Mineral Acres
8300 Que Pasa Ranch Rd : Anderson, TX 77830
Grimes County, Texas
Expired Listing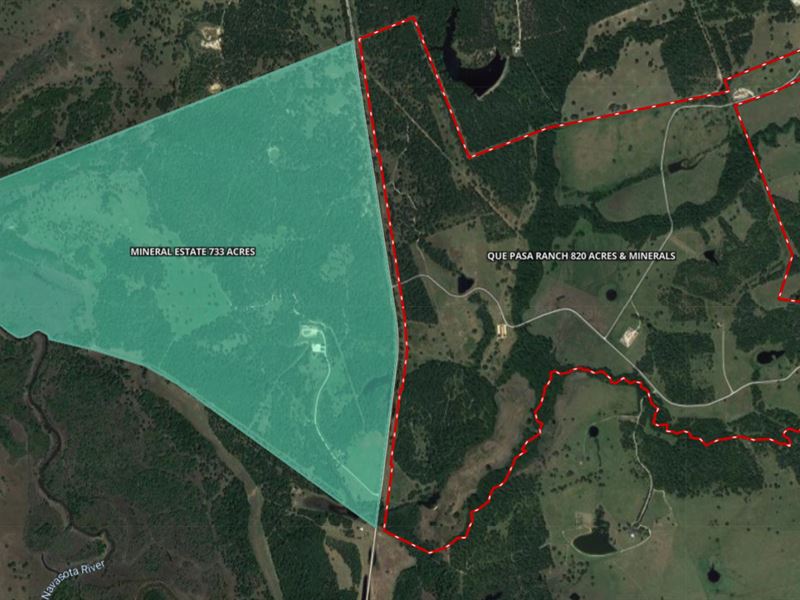 Farm Description
820± acres of premier Grimes County high fenced ranch land and minerals will be selling exclusively at auction on Friday, June 14th, 2019. Real Estate & Auctioneers has been selected to conduct the live on-site auction at Que Pasa Ranch headquarters that will offer 820± acres of land with improvements and 1533 +/ acres of minerals to bidders in whole or part, suitable to their particular interests.

It has been said that luck is what happens when preparation meets opportunity, well prepare to take advantage of this once in a lifetime opportunity to be the lucky bidder that purchases this magnificent ranch at the price that you set. With a prime location close enough to, yet far away from it all, Que Pasa Ranch lies waiting for your next hunting adventure. Almost completely high game fenced with privacy screening to protect the habitat of decades of whitetail stock growth, Que Pasa Ranch provides the seclusion that is expected from premier game ranch facilities, while mere minutes from College Station and less than an hour from Houston with easy highway 6 access.

As a former designee of the prestigious Lone Star Land Steward award serving as testament, meticulous care has been given to Que Pasa Ranch to strike the proper balance of habitat management, wildlife conservation and human enjoyment of this Texas treasure. Rolling hills await the cattleman and hunter alike, the property consists of expansive pastures set up for rotational grazing, accented by pockets of moderate and dense wood that are joined by creek bottoms to provide excellent game cover, ready for the next deer harvest. Que Pasa features a variety of water including over a mile of Turkey Creek that travels through the property and along the perimeter as well as almost a dozen stock ponds with several of the acre sized tanks near quality homesite locations. "Sanctuary" modelled deer stands are strategically placed throughout the property providing safe, comfortable, and a highly effective hunting experience. Roads throughout the property include asphalt, concrete, caliche, as well as off road trails that take you to new places on every adventure.

Opportunity abounds for the new owner to add their own fingerprint to Que Pasa with multiple potential homesites to build a weekend getaway hunting lodge or dream home. Time and careful thought can be given here as some improvements are already in place, making Que Pasa turnkey and ready for hunting this fall. The property includes a 50 ft x 170 ft metal equipment barn complete with 2500 Sqft of enclosed shop space, roll up doors, lighted deer cleaning station and walk in hanging cooler. Above the shop space there is an 840 Sqft Apartment with 2 bedrooms, kitchen and living space. The 1539 Sqft ranch house is move in ready with 3 Beds, 2 Baths, offers stone features, metal roof, and split plan with distant views of the ranch.

100% of the mineral ownership will also be offered to bidders in part or with the surface. Additionally the neighboring 733± acres minerals only estate will be up for bid, giving interested parties the opportunity to buy the Ranch and/or the Minerals as they so desire. All of the minerals will have executive rights and are currently under lease and production.

This is a once in a lifetime opportunity to buy a proven big game developing ranch and mineral interests. Do not miss this offering.